Swan Custom Pools is your premier North Texas Custom Swimming Pool builder based in Denton Texas. Russell Swan has been building custom swimming pools & spas in and around Denton, Tx since 1999. I grew up in the pool business working with my father (Ron Swan) in the family business (Denton Pools, Inc). I started selling, designing, managing the construction team, and handling the day to day business operations in 1999 building roughly 70-80 swimming pools per year. When Denton Pools, Inc. was sold to new ownership in 2009 I decided to start my own company, (Swan Custom Pools, LLC). I guess you can say I have a passion for the business and enjoy seeing a finished project I can be proud of. I truly love building swimming pools, outdoor living spaces, & working with my customers!
We specialize in building custom swimming pools, spas, water features, and outdoor living spaces from North Texas to Southern Oklahoma. We believe the key to a successful installation is having a great relationship and consistent communication. Swan Custom Pools proudly offers our customers energy-efficient, eco-friendly Eco Select brand swimming pool equipment from Pentair Water Pool and Spa, Inc, the leader in Swimming Pool & Spa Equipment.
Questions? Need a Quote? Contact Us!
We put our clients first.
We're dedicated to providing one-on-one attention to every client we work with. We focus on your individual needs and never sacrifice quality for profits. We strive to create a referral out of every client we work with – everyone knows the best prospects come from satisfied customers! Swan Custom Pools builds swimming pools using top notch materials & equipment along with a proven methodology, the outcome is a quality, strong, well built pool that stands the test of time. We stand behind it!
We will remain committed to complete customer satisfaction during the construction process, start to finish and beyond! Swan Custom Pools works closely with our clients while maintaining excellent communications. Swan Custom Pools WILL Provide efficient, reliable, topnotch, construction, these are values that will absolutely be upheld. Give Swan Custom Pools the opportunity to earn your business, you will be glad you did!
Our Mission.
Our mission is to provide every client with an experience of honesty, quality, integrity, excellence, attention to detail, on time scheduling and guaranteed workmanship at an affordable price. These traits are illustrated throughout every stage of our construction process.
Swan Custom Pools is dedicated to our customers and we will always provide the highest level performance and expertise in the industry. We pride ourselves in insuring our customers are 100% satisfied with our high level workmanship and attention to detail.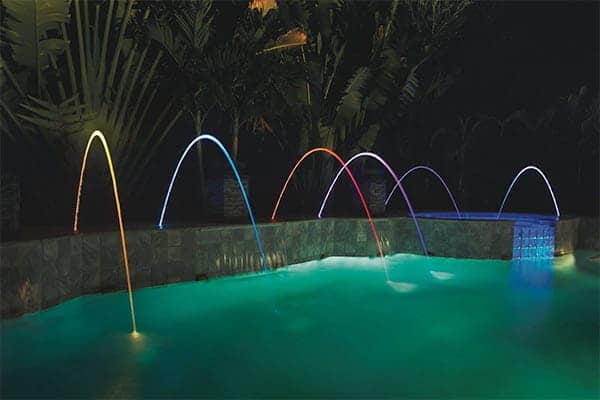 LED Lighting Available
Contact us for more information on LED lighting for your pool or hot tub!
Need financing for your dream pool?
Swan Custom Pools partners with the best financial institutions and is a Financial Services Authorized Swimming Pool Dealer. This enables us to provide our clients an end to end solution and a one stop shop. Check out our financing partners below for more information about swimming pool loans.
Debbie Oakley at Certified Funding
(214) 679-1046 or apply online
Lyon Financial
(877) 754-5966 or apply online
Material Selection Help
Need help with material choices for your pool? Visit our partners for guidance!